Migrating from SQL CE Mobile Merge Replication to Zumero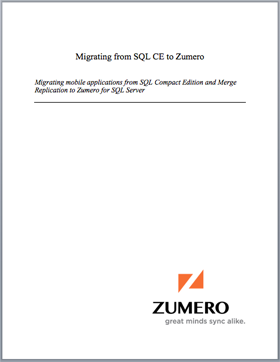 Until the release of SQL Server Compact Edition (SQL CE) 4.0, many enterprise organizations built mobile applications that could synchronize their business data and work offline using SQL CE and Mobile Merge Replication. When support for mobile platforms and replication was dropped in SQL CE 4.0, those applications were left without a migration path. Zumero was developed for businesses stranded by SQL CE and needing a data replication and sync solution for SQL Server that can easily support all mobile platforms, including iOS and Android.
Download our technical whitepaper, Migrating from SQL CE to Zumero, for a step-by-step guide to transitioning from SQL CE to Zumero. We begin with a brief overview of Zumero, then we take a look at Rob Tiffany's book, Enterprise Data Synchronization with Microsoft SQL Server 2008 and SQL Server Compact 3.5 Mobile Merge Replication. We compare the steps for creating an application using SQL CE Mobile Merge Replication to the steps for creating the same application using Zumero. We've also ported the sample app used in Rob's book and provide it in source code form for your reference.
Here are the resources you'll want to get started:
Need to migrate an app but don't have the time or expertise? Zumero's Professional Services team specializes in migrating enterprise applications from SQL CE to Zumero. Email sales@zumero.com for rates, availability, and proposals.